The moment you have (or have not) been waiting for….
Let's talk TAYLOR.
I've talked to lots of people about Queen Tay, and for the most part people fall into one of these two categories:
(1) "Old Taylor" fan and (2) "I'll listen to any of her stuff."
Needless to say, I have felt alienated. I am one of the only people I know who actually… ahem…. LOVES the new Taylor MORE. MORE than the old Taylor. And so anyone who knew that about me was so nervous to admit when Lover was being released that they didn't like the song "Me."
Well, guess what? I didn't like it either.
And for everyone who wasn't entirely sure about cardigan Taylor? I walked on eggshells around her at first, too.
I've come to realize that the "new Taylor" who was born with the "reputation" era has pretty much disappeared from existence, though people seem to group any post-Kimye-fued albums into the "new" era. But "new Taylor" was only with us for a little while… First she was replaced with Bubblegum Taylor, which was fine and all but she just wasn't my favorite. And now Bubblegum Taylor has been replaced with cottagecore Taylor, who I happen to like a lot, but she is still not the pure, full "new Taylor" who captured my heart in 2017.
When I say I fell in love with the "new Taylor," I'm talking about the one who literally said "the old Taylor can't come to the phone right now."
I'm talking the mysterious, dark, angsty, snake-infested Taylor. Reputation Taylor.
As much as I will ride or die for Red, and as much as I loved "Fearless" and "Speak Now" when I was a teenager, since 2017 (and for the rest of time) I am a DIE HARD REPUTATION FAN.
Even though I still fawn over Cruel Summer and had an emotional reawakening with folklore and evermore, reputation is – and always will be – Taylor Swift's BEST ALBUM.
You're probably wondering, why?
Primarily, in the words of Taylor herself, "I think for me, um…"
THE AESTHETIC.
It began with the glitchy, sparkly snakes on her mysteriously-empty Instagram… and then one of her top three BEST (and most infamous) music videos.
And thus, the "new Taylor" was born.
And I immediately lost my taste for all the other eras.
Shortly after Look What You Made Me Do, my favorite track from reputation, and also from her entire catalog, was released, along with my favorite music video of all time (tied with Out of the Woods).
It's safe to say I wasn't "ready for it," and I'm still reeling from the shocking beauty of this video.
Forget 1989. This was the moment the true pop Taylor was born, and there was no turning back. So for someone whose entire country music listening experience is made of up of old Taylor tracks, I rejoiced at this genre rebirth!
Then the full album was released, and the next day Taylor appeared on SNL following the best-looking ad SNL has ever made:
I may be biased, but let's just say that the old Ali would've cared, and she died along with the old Taylor. RIP.
All in all, Taylor served some of her best looks during the reputation era. Here are some prime examples.
Which flows directly into the reputation stadium tour…
Maybe it can be attributed to the fact that her budget, talent, and expertise all increase with each album as she grows in her craft, but regardless, this tour was the BEST tour she's ever put on.
Even though I attended the tour in Pasadena, I still go back and watch the performance on Netflix to relive the grandeur.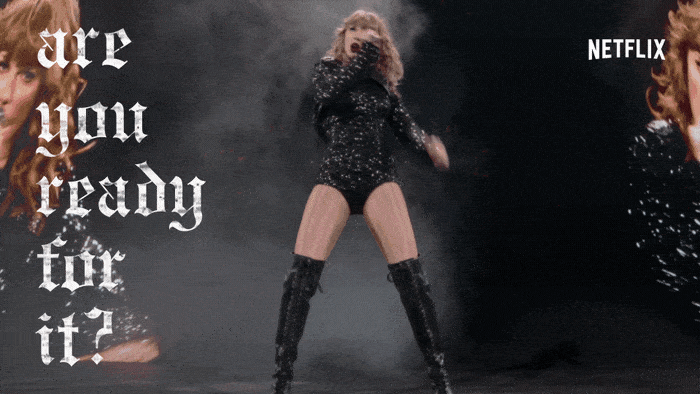 From the very first moment of the show to the final notes of This is Why We Can't Have Nice Things, the popstar put on an incomparable event.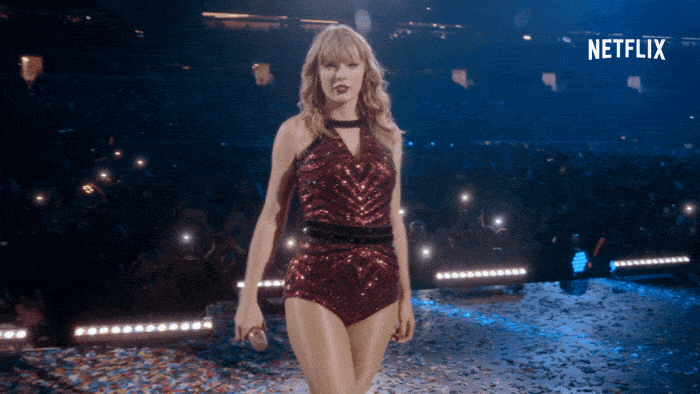 I go into detail about Taylor's lyrics here and I'll discuss the lyrics of each reputation song specifically in another article, but I'll just summarize by saying that reputation has the perfect balance of break-ups and get-togethers, anger and joy, slick pop beats and poetic depth.
But it's not just the aesthetic that makes the reputation era so phenomenal.
Like you can see in this gif, Taylor actually seems really, genuinely happy. As someone who took on the physical affects of fame by developing an eating disorder like she discussed in Miss Americana, the "new Taylor" seemed way more confident in herself and her skin during the reputation stadium tour than ever before.
Her vocals are arguably stronger in the recordings and the shows, and by the amount of high notes she actually nailed live, girl knows it. Even her more-complex dance routines like the one in Gorgeous shows that she has chosen to ignore all the comments online about her goofy dancing to fully embrace the popstar she was always destined to be.
After the fued with Kimye that pushed her into years of hiding, Taylor emerged in a much healthier state emotionally, physically, and romantically. Though the reputation aesthetic was dark and edgy, the reputation Taylor was remarkably happy and excited. She had taken back her power, her identity, and her music… the album and style both portrayed that she had started making decisions based on her passions rather than publicity. THAT is the Taylor I want to celebrate.
If you avoided reputation altogether like SOMEONE I know (let them remain unnamed), or just need a refresher of this 2017 banger, check out this playlist of the songs that I've ordered according to my personal favorites.
What are your thoughts on the reputation era? Was that era also your favorite, or did it rub you the wrong way like a large part of the Swiftie population? Let me know in the comments.